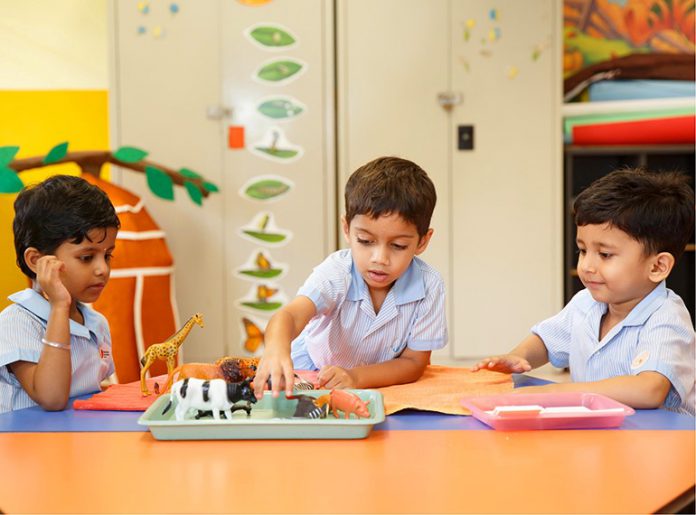 The Global Schools Foundation (GSF) is a pioneer in K-12 education in Asia, managing a network of global schools that comprises of 20 Global Indian International School (GIIS) campuses across 7 countries. GSF operates two school brands – Global Indian International School and One World International School.
Instituted with the mission of providing quality education to the children of the expatriate community in Singapore, Global Indian International School (GIIS) made its humble beginning in 2002, with its first campus at Mount Sophia.
GIIS now has four sprawling campuses in Queenstown, East Coast, Balestier, including a dedicated facility for our Nursery and Kindergarten students in Mountbatten.
Today, GIIS is recognised for their hallmark initiatives in educational excellence, environmental conservation, peace and value-based education, and community integration. Our students receive wide exposure through participation in various school activities and external programmes, providing fruitful opportunities for learning and overall personality development.
Providing an entire spectrum of K -12 education, GIIS offers Indian and International curricula including International Baccalaureate Diploma Programme (IBDP), Cambridge IGCSE, CBSE, and Global Montessori Plus.
GIIS Queenstown Campus
Classes – Class 1 to Class 12
Curricula – CBSE, Cambridge IGCSE and IB Diploma Programme
GIIS East Coast Campus
Classes – Class 1 to Class 10
Curricula – CBSE and Cambridge IGCSE
GIIS Balestier Campus
Classes – Class 1 to Class 6
Curricula – CBSE
GIIS Mountbatten Campus
Classes – Nursery – Kindergarten 2
Curricula – Global Montessori Plus
For more information:
Call: +65 6508 3715 / 9631 6000
Email: admission.sg@globalindianschool.org
Visit: www.giissingapore.org