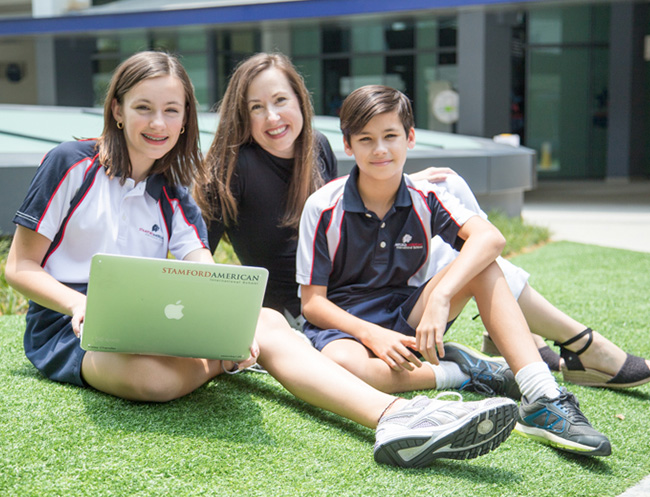 Stamford American International School is a world-class school for 2 year olds through to High School. Offering two rigorous programs of learning; the International Baccalaureate Programme enhanced with American standards of education, to deliver the best academic standards and ensure that our students go on to take their place as successful 'global citizens'. Exposure to our Mandarin and Spanish language program and the latest technology with one-to-one iPad and MacBook Programs also develops a global outlook.
*   Nursery & Beyond – Welcoming children from just 2 years old, Stamford's nursery program teaches play-based  learning and gives young learners time to explore and learn at their own pace, in a caring environment.
*  World-Class Sports Facilities – Let your kids shine with Stamford's state-of-the-art campus —including    3swimming pools, 2 sports arenas, tennis courts, dance studios, sports field and Golf Academy.
*   Teaching With Technology – Stamford prepares children for the workplace right from the start, providing        essential academic technology skills. All students enjoy the school's 1-to-1 technology programs, with iPads for    Kindergarten to Grade Five students and MacBooks for the Secondary students.
*   Healthy & Nutritious Food – Acclaimed Chef Emmanuel Stroobant has partnered with Stamford and ensures students are served fresh, delicious and nutritious food daily, to help improve concentration, energy levels and boost a child's learning potential
Students at Stamford American International have access to the best international minds and leaders in the fields of business, science, social enterprise, athletics and the Arts through our unique Global Mentor Program. Recent mentors to engage with Stamford students are Prof. Ei-ichi Negishi, a 2010 Nobel Laureate for Chemistry and Sir James Mirrlees, 1996 Nobel Laureate for Economics. Also this year Stamford swimmers have had the chance to be trained and relay against American Olympic Medalists and World Record Swimmers, Jessica Hardy, David Plummer and Nathan Adrian.
Stamford is truly an international school, with more than 60 nationalities represented on campus, developing an understanding of, and appreciation for, the philosophies of people from many different cultures.
FOR MORE INFO:
Call (65)  6653 7907 (Admissions) or visit  www.sais.edu.sg  
1 Woodleigh Lane (Off Upper Serangoon Road), Singapore 357684