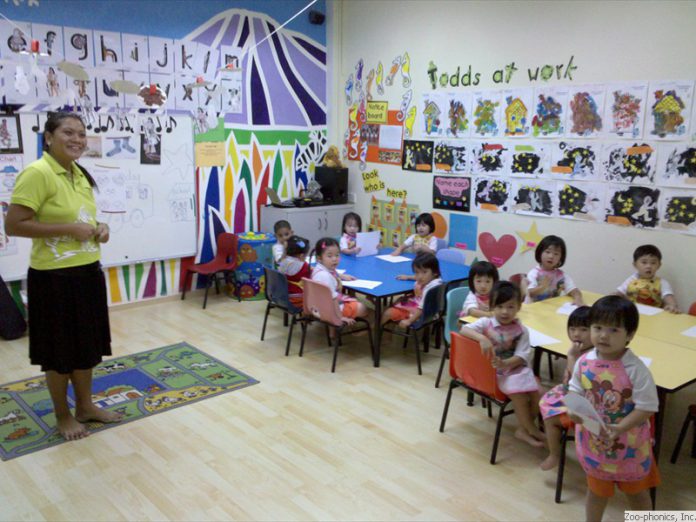 Nursery, Kindergarten, Full-Day Childcare – Enjoy all these services and more under one roof at Safari House Preschool.
Fun and incredibly effective, Zoophonics, created by two award-wining teachers in US in 1983, is synonymous here in Singapore for its creative and high energy enrichment programmes. Having enjoyed  a landmark success in helping promote English among kids, Zoophonics is finally proud to announce, with the opening of Safari House Preschool, the much anticipated entry into nursery, kindergarten and child-care services.
Safari House believes that your child's early years of formative learning is crucial and provides the foundation for life-long learning.  This begins by encouraging self discovery,  love of learning, care for others, and an appreciation for the environment we live in.
* Toddlers(18 – 30 months)
* Nursery 1 (year child turns 3)
* Nursery 2 (year child turns 4)
* Kindergarten 1 (year child turns 5)Programmes include:
Kindergarten 2 (year child turns 6)
"Zoo-phonics School has well-designed programmes and good teachers. The lessons are fun and interactive. Lucas likes his teacher very much; she is caring and able to capture the children's attention." – Cecilia Tan
Many parents like Cecilia feel likewise since enrichment activities here are mostly play-based, multi-sensorial and more importantly hands-on. These include language, arts, music, phonics, mathematics, science, nature, physical education, nutrition, grooming and self-care. To complement these, there are also school readiness training plus MOE curriculum based lessons in English and Chinese to help kids prepare for a life in primary school.
At Safari House, what you stand to finally discover is the foundation for  your child's ultimate success.
For more information:
 call (65) 6462 3881
 or visit www.zoo-phonics.com.sg.