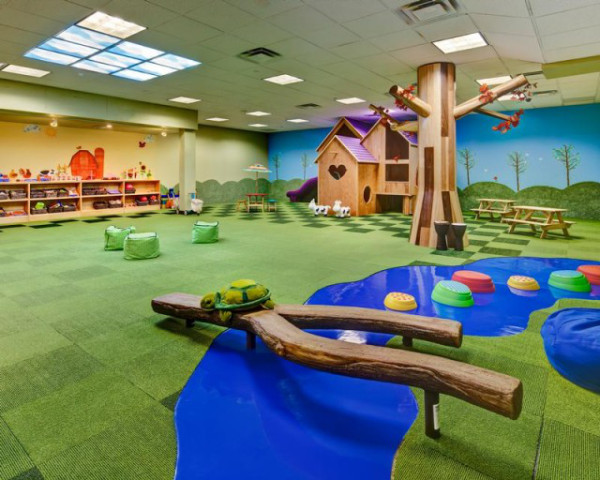 Ever thought children should spend more of their childhood liberated from their everyday toys, playing outside in the country? They do in Switzerland, following an idea that originated in Germany. In this outdoor kindergarten, children aged 3 to 9 are no longer confined by concrete walls.
Instead of using Barbie dolls or Lego as toys, they spend all day in the forest, playing with mud, branches, seeds, leaves, and everything nature has to offer. They learn how to use knives and saws to make their own toys, and run free whenever they feel like it. And they go outside almost any the weather. If it's cold (in winter the temperature can reach -8°C) they learn how to light fires, and there is only a small hut for when the rain gets too heavy.
SILVIA ORTONCELLI AND ALBERTO BERNASCONI 
Went Back To School To Visit Mother Nature's Playground.
Just a ten-minute tram ride from the centre of San Gallo and you're practically on the doorstep of the forest. The outdoor kindergarten is having its first lesson of the morning. The children, aged from two to four years ("the playgroup"), are scampering along paths looking for branches, leaves and mud pies to make imaginative toys. Four-year old,  bright-eyed Beda is already a leader. He heads for some shrubs that he likes and cuts some with his pocket-knife. Then he runs ahead of the group and helps Joel to his feet. His friend had fallen in the mud. Tripping on wet ground, "Can happen when the sun's sick," says Beda.
Two teachers are watching over her and another ten children. One of them has significant experience: in 1988, Remo Gugolz, 42, was one of the founders of this woodland kindergarten, the first of its kind in Switzerland. At the Waldkindergarten St. Gallen, children stay outside in the open air from nine in the morning until four in the afternoon. In the forest glade, they do everything—playing, cooking and eating—no matter what the temperature or the weather: sun, rain, and even snow. There's just one rule: they must wear waterproof thermal playsuits and mountain boots. There are no classrooms out here in the woods; only a small wooden hut containing some drawing tables for the bigger pupils on the left and a bookcase on the right.
Remo is the father of two children aged 10 and 12 and thus, he has always been aware of the environment and how much children can learn from nature. He would like his children to have had "a school with no rooms, corridors or canteens. And no factory-made toys." In Germany, forest kindergartens have been running for over a decade (the first was started in 1993 in Flensburg). After visiting a few, Gugolz
decided to get together with Regula Borrer and Marius Tschirky (now the school's principal and a teacher, respectively) to create a similar experience in San Gallo, a city of 75,000 inhabitants in Switzerland's northeast. They began with 20 children; today they have nearly 40. Three years ago, a primary school section was opened, with three levels of classes. "We're pioneers. After a couple of years, once they saw how well it worked, other groups of educators opened outdoor kindergartens in Switzerland. And now forest pedagogy, the discipline behind these projects, is going through a golden age," says Borrer.
Today there are around fifteen forest kindergartens in German-speaking Switzerland: all are private, and almost all were started on a word-of-mouth basis. Many follow the model used in Germany, where there are 400 such schools. Or they use the Scandinavian model, especially Denmark, the true pioneers who started outdoor children's groups over fifty years ago. Organised into regional networks, the Danish outdoor groups are financed by institutions just like traditional kindergartens.
Moris and Jake, aged four, are sitting on the ground on a bed of dry leaves, absorbed in cutting tree branches with their pocket-knives. David, aged five, is helping them. Together they decide to tie the sticks with twine to make a square. All the children freely handle small knives or miniature saws. "No one has cut himself in the past 8 years we are here," says Tschirky, 29, a teacher with ten years' experience and leader of Marius und die Jagdkapelle, a group that puts on shows for children. The group is known to play to packed houses all over Switzerland. "The secret is to give them responsibility and make them become aware of things. That way, children understand what their limits are on their own and they don't go over them. It's essential to trust them and not to instil baseless fears and anxieties in them."
Activities in the kindergarten develop around three educational cornerstones: forest pedagogy, playing with materials found in nature, and self-learning. Forest pedagogy is recognised and studied in Germany as an academic discipline. At the centre of the child's growth is the sensory relationship with nature, which becomes a familiar environment. Nature creates a hothouse of discovery. "The forest is a place of great calm and serenity," says Remo, who moves among the trees with the familiarity of an elf. "It's full of life- both vegetables and animals- that you can experience with all the senses." And that's not the only advantage: "The fact that they make toys on their own, or invent them, starting with a leaf, is a powerful springboard for creativity." The child is given time to experiment and play in complete independence. Seven teachers including Marius and Remo maintain discipline which is more subtle and respectful.They answer in a tone of voice that is always calm and gentle, but they never offer the children a solution to any difficulties they might meet.
Although it imposes no rigid schedule or programme, a typical day in the woods does feature regular events. It begins with a game of ring-a-rosy in the morning, followed by different activities depending on the age of the children. Before returning to play, they have a snack and then listen to stories. The children help prepare and cook their own lunch in the open air. In the afternoon, the younger children go home, and the bigger kids stay on to do mathematics (counting acorns) or biology (observing an insect or a bird).
Studies commissioned by the public school administration have shown that children who attend these kindergartens do not encounter any problems at primary school, where they have to stay seated in a classroom for long hours. On the contrary, wrote pedagogue Raimondo Lettieri in his report, "Compared to other children, those from the forest kindergartens are more creative and they are physically more agile and coordinated."
Each kindergarten is self-regulating. The San Gallo children cook their lunch from scratch while the children in Witikon Kindergarten in residential area southeast of Zurich, reheat pre-cooked meals in the woods. Wakita was founded three years ago by its current principal, Marga Keller, 49, and is a slightly more urbanised version of the natural pedagogical philosophy. This forest kindergarten, which numbers about forty children, is integrated with a traditional nursery school building. In the morning, after singing a nursery rhyme in a circle, the children set off towards the forest. A mere ten-minute walk later, they are surrounded by beeches, birches and alders. A teacher tells the children to collect pebbles of different colours and sizes. Once they're in the forest, these will be used to make shapes. After lunch, the children come back to the school for a nap.
"The basic idea is to learn by playing and so allow each child to understand how things work, on their own and when they are ready. It's ridiculous to expect that all of them will understand at the same time: each child needs their own time to process and internalise the content of their life experiences," explains principal Keller, an ex-primary school teacher frustrated by canonical teaching methods.
According to Tilde Giani Gallino, professor of developmental psychology at the University of Turin, "this type of educational model is extremely valid. A child has a great ability to adapt, but this does not necessarily have positive results: placed in front of the TV, for example, they won't learn anything, but through all five senses, they learn a great deal."
But what might seem a novelty is, in reality, "a return to the origins of pedagogy. In Emile, Jean-Jacques Rousseau showed how a child educated in a natural environment, with no books or impositions, would have gained experience on their own in the world and only later, spontaneously, would have asked for an atlas."
Back at the Wakita school, the children have their lunch in a traditional farmhouse, seated in a circle. The smaller children, aged from two to four, are well trained. After finishing their meals, they clean their plates and put the leftovers in a special container. For them, the morning is coming to an end. As they leave the forest, they do a last ring-a-rosy. Teachers and children join hands and say goodbye to the trees, the sun, and the sky. Then they whisper their names to each other and in a chorus, like in a Swiss lullaby, they answer: Isch da – "She's here".