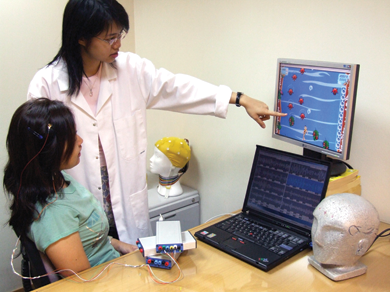 FREE YOUR MIND TO UNLOCK YOUR POTENTIAL
Understanding the state of your brain may hold clue to your success. Attempting to uphold pedagogy while trying to complete the syllabus within the stipulated time in a classroom filled with diverse personalities may, to an educator today, be an unenviable task. In this process, it comes no surprise if the teacher unknowingly overlooks the struggles a student faces, all the more if the challenge is beyond academic.
This is where we from Spectrum Learning, step in – by helping individuals to improve the quality of their lives through understanding and developing their brain functions. These individuals include those with special needs, the hardworking underachievers and those top performers who wish to excel further.
Over the years, we have worked with children with a broad spectrum of special needs, as well as many high-performing individuals. Our therapists see it as their responsibility to enable these kids to understand how their brain is responding so that they can guide them through appropriate training, practise and diet in order to help them overcome their challenges and assimilate into the school or working environment.
"Daniel failed all subjects in P5 and was streamed to EM3. Remedial and tuition did not help. However, after starting Neurofeedback program, he scored grade 1 in all the 3 subjects for PSLE. Daniel is a different person now. He is confident and his self-esteem has sky rocketed! I am so happy for him."
– Karen, mother of Daniel, a 12 year-old with learning difficulties
For more testimonies, visit www.spectrumlearning.com.sg/testimonies.

Dr. Kenneth Kang, Ph.D. (Ed Psyc) founded Spectrum Learning in 1995. It was the first Neurofeedback centre in Asia. By using this science, he started working with students who struggled despite remedial lessons in schools and tuitions after school. When their performance improved after neurofeedback training, his clientele started growing to include a wider variety of special needs children as well as top students from highly competitive schools.
For more information, call 65 6834 9476 or visit www.spectrumlearning.com.sg.