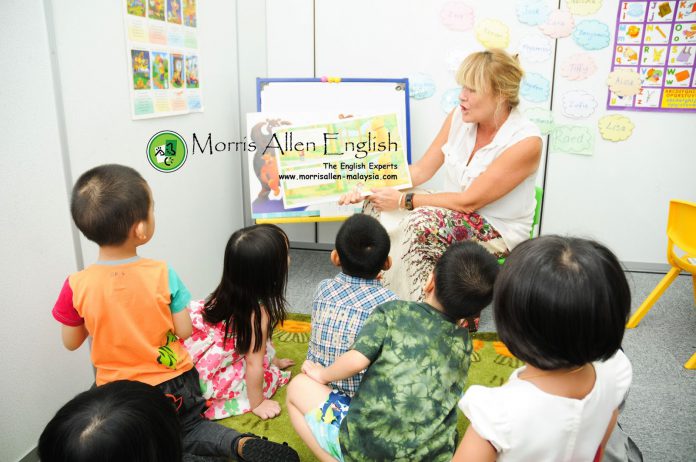 LOVE GOOD ENGLISH, GET GREAT ENGLISH RESULTS
MORRIS ALLEN ENGLISH provides English lessons for students from Nursery to GCE 'O' Levels, plus 'E' classes for the gifted.
GREAT BEGINNINGS
It was the year 1993, and Mr Morris Allen had just planted the idea seed for 'Morris Allen Study Centres'. With the concerted efforts of a group of educators passionate about the Teaching of English, Morris Allen grew in strength and experience to 6 fully-fledged branches in family-centric locations in Singapore.
WINNING AWARDS
Morris Allen English prides itself in being the first language centre in Singapore to attain the ISO 9001:2000 award by PSB Certification for the provision of English language courses.
ONLY NATIVE-SPEAKING TEACHERS
Morris Allen centres hand-pick fully- qualified teachers, who are all native-speakers of the language. It counts the native speaking modeling as a crucial factor in correct oral language development.
EXTENSIVE RESOURCES
It also boasts an extensive library of teacher-selected reading materials which number more than 10,000 titles. Students are encouraged to borrow at least 3 books every week, as Morris Allen takes a long term view of language learning.
REVISED & UPDATED MOE CURRICULUM
Registered with the MOE, the centre develops programmes in consultation with MOE teachers, and uses 2011 Revised and Updated MOE syllabus.
SMALL CLASS SIZES
It also has small class sizes, 4 tests a year, 2 annual parent-teacher meetings, open week, regular English enrichment, intensive programmes (5 or 10-week short courses) and holiday programmes in June and December.
FOR MORE INFO:
Call (65) 6256 5656 or visit www.morris-allen.com