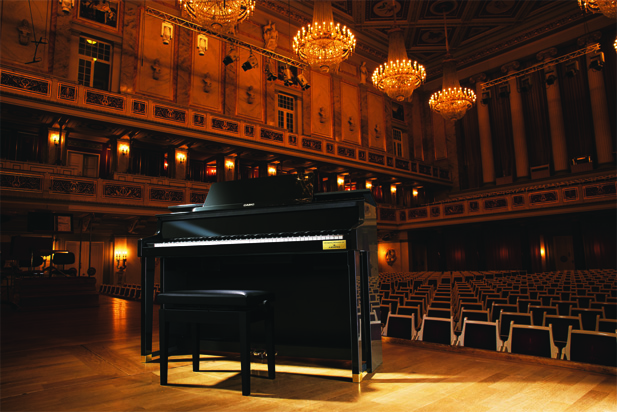 Breakthrough in the design and technology of CELVIANO and Privia heralds an unrivalled surge in the quality of the music.
Bold and yet refined in design, these new-age digital pianos come with advanced technology offering exquisite tonal quality and closer to realistic acoustic piano key touch. By infusing design and elegance, these state-of-the-art instruments are charming fans all over by raising the level of experience in practice as well as in performance.
So, what makes this experience so different? One of the key advantages of these digital pianos is that they do not require periodic tuning as required by the traditional acoustic pianos and when it comes to practicing, these instruments allow the users the flexibility of adjusting the volume to a level they are comfortable playing at. Plus the fact that they come with built-in audio jacks enables users to plug in their headphone and practice without disturbing others. Since two audio jacks are provided, two people can listen in at the same time.
Through the breakthroughs in digital technology, these pianos today require a lot less space and are also much lighter in weight allowing them to be easily transported to another room or location. The successful Privia PX-160, weighing only 11.1kg, with full 88 weighted keys, presents a portable option with either black or champagne gold finish, redefines the digital piano category with unprecedented sound quality and performance within a sleek package. Besides recording, the speed can be slowed down, to enable practice with separate hand with a database of 60 music library songs and 18 varieties of tones. The Casio Privia PX-160 is versatile enough for home, church, school or on stage.
Experience the elegant design and rich resonance of the Casio CELVIANO AP-460. Not only does the the Multi-Dimensional Morphing Air Source allows smooth transitions of dynamics from delicate ppp(pianississimo) to astonishingly powerful fff (fortississimo), the nuances of an acoustic piano such as string resonance and reverberation is also captured. With the USB function, you can now record every detail of your performance and share it with your love ones with ease. Finally, the 2 way 4-speaker system of the AP-460 delivers a rich and impressive sound, allowing the pianist to achieve an expressive and dynamic piano performance.
For the more serious players, where sound quality cannot be compromised, the CELVIANO-Grand Hybrid presents a masterly collaboration with C.Bechstein, legendary piano manufacturer. The Grand Piano Hammer Action with full-length wooden keys and Acoustic Simulator feature recreates the experiences as though playing on a Concert Grand Piano. Pianist can also select one of the three Legendary Grand Piano tones and Hall simulator setting to provide an unmistakable grand piano experience to your audience.
FOR MORE INFO:
Visit: www.casio-intl.com/sg/en/emi/